The RetailX Brand Index 2022 explores the largest 500 brands that sell to customers across the EU from a strategic and commercial lens.
Driven by our industry-leading research, we look closely at how brands now engage with shoppers, as well as how shoppers expect to engage with brands. In a series of examples, we discover how leading brands are tackling the complexities of multichannel retailing and maintaining customer loyalty.
It is our aim to provide brands of all sizes with the industry insight needed to see how they measure up to the performance of leading brands that sell in some of the world's largest markets, as well as to understand and learn from what works for market leaders.
How are Disney helping shoppers find the right items online? Why does Lascana stand out in the Mobile & Cross-channel Dimension? What does the Body Shop's sustainability strategy look like? Why is Givenchy taking the crown when it comes to flexible delivery and returns?
Download the full report now to find out all this and more…
Infographic Summary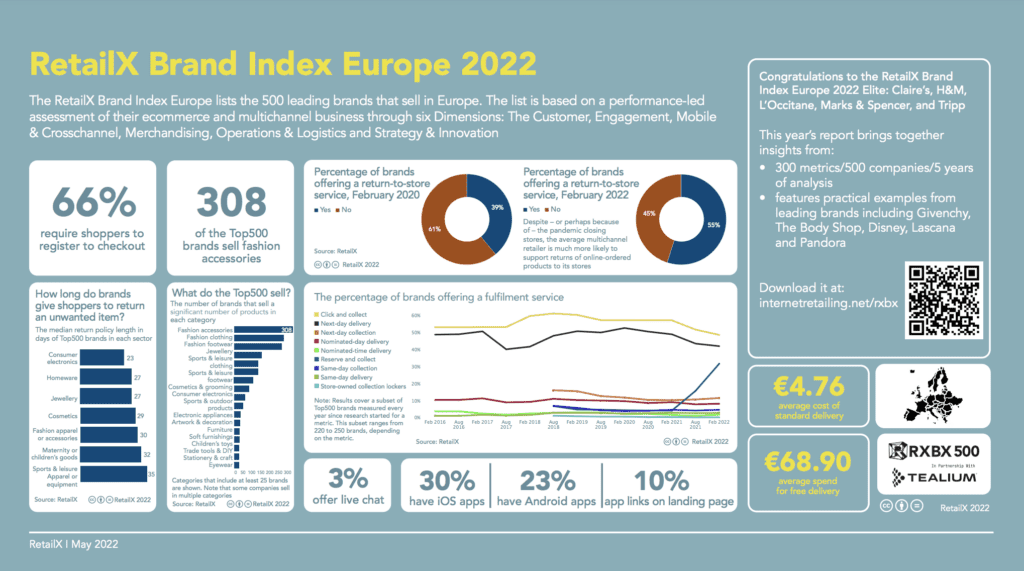 Report highlights:
Exclusive case studies with Disney, Pandora, Lascana, Givenchy and The Body Shop.
Tracked brand performance through six Performance Dimensions – The Customer, Engagement, Merchandising, Mobile & Cross-channel, Operations & Logistics, and Strategy & Innovation.
Up to 7 years of comparative research.
Download the complete report and learn more about:
The tools and retail strategies that brands use across their business to engage customers.
New challenges for retail in an era of turbulence and how brands are responding.
What does the customer expect in 2022?